About Us
Koh-I-Noor Curries is a Indian takeaway in Sheffield. Why don't you try our Vindaloo or Gobi Aloo?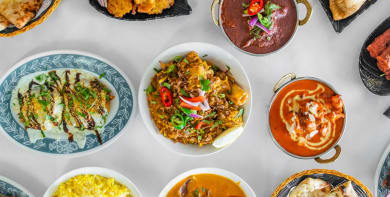 Reviews
132 reviews
naomimitchell
"⭐⭐"
23/05/2020
Rob
"Great food...fast delivery...reordered 3 times...same service everytime....⭐⭐⭐"
17/05/2020
Natasha
"Ordered a few times and loved it every time!"
16/05/2020
ollie
"The food was hot and really good. There were a few extras thrown in as well which was a lovely touch. Would definitely order from here again"
11/05/2020
Menu
Kohi Noor Mix Starter
Onion bhaji, meat samosa, seekh kebab, chicken tikka
£3.90
Vegetable Platter for 2 Person
2 Onion bhajis, 2 spring roll & 2 vegetable samosa
£4.25
Tandoori King Prawn Starter
£3.95
Mix Platter Spicy
Seekh kebab, chicken tikka, lamb tikka
£3.90
Chicken Nuggets (6) & Chips
£2.50
Set Meal For 1
1 Onion bhaji
1 Chicken tikka masala
1 Bombay aloo
1 Pilau rice & 1 nan bread
2 Papadom
Onion salad & mint sauce
£12.50
Set Meal For 2
1 Onion bhaji
1 Meat samosa
2 Any dish from old favourite
1 Pilau rice & 1 nan bread
1 Any vegetable side dish
1 Bottle of Pepsi
4 Papadom
Onion salad & mint sauce
£25.00
Chicken Tikka Main
Off the bone exotic spiced chicken, with salad
£6.95
Lamb Tikka Main
Marinated in tikka sauce, cooked on charcoal, salad
£7.50
Tandoori Chicken Main
Grilled with exotic spices & herbs, salad
£6.95
Shashlik Chicken
Cooked with fresh tomatoes, green pepper
£6.95
King Prawn Tandoori Main
Grilled with exotic spices & herbs, salad
£8.50
Tandoori Mixed Grill
Chicken tikka, lamb tikka & seekh kebab
£8.50
Arabian Lamb
Lamb & mushroom cooked in creamy mint sauce
£6.95
Bhindi Gousht
Okra & lamb cooked in medium spices with onions & peppers, garnished with coriander
£6.95
Keema Aloo Mattar Balti
Minced lamb cooked with potatoes, peas, onions & peppers, garlic, ginger, garnished with coriander
£8.95
Tandoori Mix Bhuna
Seekh kebab, chicken tikka, lamb tikka cooked with grilled peppers & onions, garnished with mild spices
£7.95
Garlic Chilli Chicken
BBQ chicken tikka cooked with fresh green chillies & garlic in a sauce of caramelized onions garnished with coriander
£6.95
Butter Chicken
Marinated tandoori chicken cooked in pure Indian butter, garnished with cream
£6.95
Bruchi Chicken
Chicken & potatoes cooked with mild spices, garnished with crispy fried onion
£6.95
Bruchi Lamb
Lamb & potatoes cooked with mild spices, garnished with crispy fried onion
£6.95
Machli Aloo
Fresh cod cooked with baby potatoes in a bhuna style sauce, garnished with coriander
£7.50
Kohe Noor Special
Chicken tikka, lamb tikka, prawns cooked in medium spices garnished with chef's special ingredients
£7.95
Chef Special Korma
Chicken tikka cooked with coconuts almonds in creamy sauce, garnished with homemade Indian nuts
£7.95
Lahori Chicken
Chicken or lamb cooked with fresh peppers & onions, mixed with special kohe noor spices, garnished with fresh coriander, garlic & ginger
£6.95
Lahori Lamb
Chicken or lamb cooked with fresh peppers & onions, mixed with special kohe noor spices, garnished with fresh coriander, garlic & ginger
£6.95
Chicken Tikka Masala
Marinated in spiced yoghurt, gently cooked over charcoal indulged in ground almond, pistachio nuts, onions, medium spice & finished with creamy sauce
£6.95
Ginger Chicken
Cooked with fresh ginger, stirred in a rich bhuna sauce, garnished with fresh ginger & coriander
£6.95
Ginger Lamb
Cooked with fresh ginger, stirred in a rich bhuna sauce, garnished with fresn ginger & coriander
£6.95
Jax Special
Chicken tikka, lamb tikka, king prawns cooked in rich village style sauce with kashmiri spices all the way from naar mando (tikka spiced)
£7.95
Dam Biryani
Sliced panga fish cooked in a rich home spices, stirred in rice comes with original homemade Indian sauce
£7.95
Hunger Buster
Doner meat, chicken tikka, vegetable pakora, chips, seekh kebab, all salad & all sauce
£9.90
Special Biryani
With fruits & garnished with an omelette
£8.50
Korma Chicken
Very mild dish cooked in coconuts, sugar & cream
£5.95
Korma Lamb
Very mild dish cooked in coconuts, sugar & cream
£6.95
Korma King Prawn
Very mild dish cooked in coconuts, sugar & cream
£7.95
Bhuna Chicken
Cooked in medium spices with onions, tomatoes & green pepper
£5.95
Bhuna Lamb
Cooked in medium spices with onions, tomatoes & green pepper
£6.95
Bhuna King Prawn
Cooked in medium spices with onions, tomatoes & green pepper
£7.95
Ceylon Chicken
Fairly hot dish cooked with coconut
£5.95
Ceylon Lamb
Fairly hot dish cooked with coconut
£6.95
Ceylon King Prawn
Fairly hot dish cooked with coconut
£7.95
Karahi Chicken
Cooked in spices with karahi sauce
£5.95
Karahi Lamb
Cooked in spices with karahi sauce
£6.95
Karahi King Prawn
Cooked in spices with karahi sauce
£7.95
Dansak Chicken
Cooked with lentils, pineapple, sweet & sour taste
£5.95
Dansak Lamb
Cooked with lentils, pineapple, sweet & sour taste
£6.95
Dansak King Prawn
Cooked with lentils, pineapple, sweet & sour taste
£7.95
Jalfrazi Chicken
With grilled onions & fresh green chilli, fairly hot
£5.95
Jalfrazi Lamb
With grilled onions & fresh green chilli, fairly hot
£6.95
Jalfrazi King Prawn
With grilled onions & fresh green chilli, fairly hot
£7.95
Methi Chicken
Prepared in medium spices with fenugreek leaves
£5.95
Methi Lamb
Prepared in medium spices with fenugreek leaves
£6.95
Methi King Prawn
Prepared in medium spices with fenugreek leaves
£7.95
Dopiaza Chicken
Medium spices with grilled onions, green peppers
£5.95
Dopiaza Lamb
Medium spices with grilled onions, green peppers
£6.95
Dopiaza King Prawn
Medium spices with grilled onions, green peppers
£7.95
Masala Chicken
Medium spices cooked in masala sauce
£5.95
Masala Lamb
Medium spices cooked in masala sauce
£6.95
Masala King Prawn
Medium spices cooked in masala sauce
£7.95
Pathia Chicken
Cooked in a fairly hot sweet & sour sauce
£5.95
Pathia Lamb
Cooked in a fairly hot sweet & sour sauce
£6.95
Pathia King Prawn
Cooked in a fairly hot sweet & sour sauce
£7.95
Saag Chicken
Medium spices cooked with spinach
£5.95
Saag Lamb
Medium spices cooked with spinach
£6.95
Saag King Prawn
Medium spices cooked with spinach
£7.95
Rogan Chicken
Cooked in medium spices, garnished with fried onions
£5.95
Rogan Lamb
Cooked in medium spices, garnished with fried onions
£6.95
Rogan King Prawn
Cooked in medium spices, garnished with fried onions
£7.95
Curry King Prawn
Mild sauce
£7.95
Madras King Prawn
Hot sauce
£7.95
Vindaloo Chicken
Very hot sauce
£5.95
Vindaloo Lamb
Very hot sauce
£6.95
Vindaloo King Prawn
Very hot sauce
£7.95
Gobi Aloo Side
Cauliflower & potato
£3.00
Gobi Aloo Main
Cauliflower & potato
£5.00
Saag Paneer Side
Spinach & cheese
£3.00
Saag Paneer Main
Spinach & cheese
£5.00
Saag Aloo Side
Spinach & potato
£3.00
Saag Aloo Main
Spinach & potato
£5.00
Chana Aloo Side
Chickpeas & potato
£3.00
Chana Aloo Main
Chickpeas & potato
£5.00
Mattar Paneer Side
Spinach & Indian cheese
£3.00
Mattar Paneer Main
Spinach & Indian cheese
£5.00
Peshwari Nan
Sweet coconut & sultana
£3.00
Contact Us
Find Us
20 Station Road, Sheffield, S94JU
We deliver to
S1, S12, S13, S14, S2, S20, S21, S3, S4, S5, S60, S61, S7, S8, S9